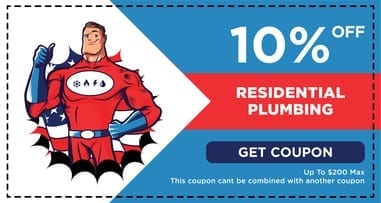 COMPREHENSIVE RESIDENTIAL PLUMBING SERVICE
SERVICING RIVERSIDE COUNTY
No matter the scope of your plumbing needs, finding an experienced plumber to properly solve the issue is the top priority. Precision One Services provides fast and effective solutions for all service, repair and new installation for your home. We pay attention to detail, are committed to the highest quality workmanship and materials, and will protect your property.
Common Residential Plumbing & Drain Issues
Dripping Faucets
Clogged Toilets, Sinks, & Showers
Plumbing Fixture Leaks
Fluctuating Water Pressure
Water Heater Leaks
Water Supply Line Leaks
Burst Pipes
Whether you're experiencing water leaks and need a fast response, or you want to upgrade your water heater, our team has experience in all home plumbing services in Riverside County and the surrounding areas. We use only the most advanced tools and technology to deliver quality results every time. Plus, we offer 24/7 services, so your emergency is our priority.
Don't delay! Call our residential plumbing specialists at (760) 662-8680 to schedule your next service.
Your drains are the most frequently used plumbing systems in the home and can clog for a variety of reasons, even with normal use. While minor blockages are easily solved with our professional snaking, it is best to address slow drains immediately as they can lead to overflows and costly water damage. Some toilet-related problems can also be linked to problems with your plumbing. When it is time to repair or replace your toilet, you need an expert to ensure safe and proper installation.
It's very important to understand the nature of burst pipes and leaks. If you suspect you have a leak in your home, it's important to address it immediately. Small drips may seem like a minor annoyance, but will often lead to burst pipes, flooding, water damage and even hazardous mold growth.
Precision One Services is available to arrive quickly and resolve your issue professionally and with the highest quality materials and craftsmanship.
Not sure if it's time to replace? We will inspect your system to identify any weak spots or potential problems with your piping. The lifespan of your pipes depends on both the frequency of use as well as the material your pipes are made of.
Typical lifespans of common piping materials:
Galvanized Steel: 20 to 50 years
Brass: 40 to 45 years
Copper: 50+ years
PVC: 50+ years
PVC and copper are the most common piping materials, but they all have their advantages and disadvantages. We will take the time to discuss your plumbing needs with you and help you determine which type of pipe would be the most suitable replacement.
Over time, plumbing fixtures such as faucets, showerheads, water heaters, and toilets can wear down resulting in small drips and even major issues. Age and water pressure are the two biggest causes of plumbing fixture failures. Our team will assess all the causes of repair needs to find the best solution, whether repair or replacement. We will also assess the cause to help you avoid future issues.
We Do the Job Right the First Time
When it comes to choosing a plumbing contractor, you can trust to install a new plumbing system, you can never be too careful. All our plumbers are master trained and skilled to perform your job to the highest industry standard.
We offer up front and flat rate pricing so you will always know the cost and we provide the highest value for your money with a lifetime workmanship guarantee.
For the highest quality residential plumbing in Riverside County and the surrounding areas, call our experts today at (760) 662-8680 or submit an online contact form.
A WORD From Our Happy Customers
Michael Jensen was extremely helpful and professional. He explained every detail about the work that needed to be done and gave great tips on keeping my a/c unit running more efficiently. Would highly reccomend Precision One to any of my family or friends. Great experience
Travis was very knowledgeable and made sure that we were 100% satisfied. Got the work done very quickly and in the same day. Definitely would use him again!
Dave was very knowledgeable on everything that needed to be fixed. Knew exactly what to do and how to do it. I would definitely recommend this company to friends and family. Great work!!
Dave fixed my water turn off knob under toilet. Job was done quick and gave really good recommendations on other stuff I needed. Customer service excellent!! I will use their services again for sure. Thank you Dave great rep for company.
Monday-Friday: 7:00 - 17:00