sewer line repair & replacement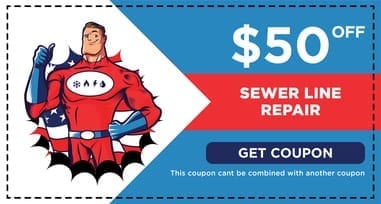 PROFESSIONAL SEWER LINE REPAIR AND REPLACEMENT
SERVICING RIVERSIDE COUNTY
Our team of experienced drain specialists can accurately diagnose even the toughest sewer line issues. If you are experiencing frequent backups, it indicates a larger problem with the sewer pipe, such as roots, breaks, missing sections, and deterioration. We will test the line, perform an in-depth sewer camera inspection and determine the best repair option for your property and budget.
While it is impossible to completely prevent sewer problems, homeowners can take precautions with their drains to avoid major issues. We recommend never putting anything other than toilet paper in toilets, keeping grease and cooking oils out of kitchen sinks and performing routine maintenance to keep drains in the best possible condition.
When problems do arise, schedule one of our experts to assess the drain and find an ideal solution for you.
Some of the most common issues with main sewer drains include:
Roots

– Tree roots are one of the biggest causes of damaged sewer pipes. They naturally grow towards moisture, and sewer lines have all the nutrients for trees to grow. Once inside of the line, they can cause breaks and even collapse the pipe necessitating replacement.

Hard Buildup

– Poorly maintained drains develop built up hardened organic material on the pipe. This can lead to cracks and breaks, making it easy for roots to enter and causing frequent backups. Sludge and grease buildup, if not properly cleaned from the line, will continue to cause damage until the pipe has to be replaced.
Breaks & Deterioration

– Aging pipes and natural shifting of the earth can also cause broken pipes. If the line collapses, sections or the entire pipe may need to be replaced.
Main sewer line repairs can be performed by routine and professional snaking for minor clogs, as well as hydro jetting for roots, severe buildup, and hardened scale.
Professional snaking is typically the first step, but when our team encounters roots or hits an object or hard spot inside of the pipe, we will recommend a sewer camera inspection to assess the damage and view the condition of the pipe.
High pressure hydro jetting is the ideal solution if the line is in good condition but has heavy buildup or roots growing inside of the pipe. It can also dissolve years of sludge from poorly maintained drains.
When aggressive root intrusion has broken a sewer line, if there are large sections missing, collapsed pipes, or large holes, the pipe will need to be replaced.
We will replace the line by excavating the area, removing the damaged portion and replacing it with new ABS or PVC sewer pipe. For small breaks, this is easily the most cost effective for sections that are underneath the home or easily accessible earth.
If the entire line needs to be replaced, our team has extensive training in safe trenching and excavation. We always perform all replacements to the highest industry standards to protect your property.
We offer 24/7 emergency diagnosis services and are committed to solving your problems with the highest quality materials and workmanship.
For the expert sewer line repair and replacement in Riverside County and the surrounding areas, call our experts today at (760) 662-8680 or submit an online contact form.
A WORD From Our Happy Customers
Michael Jensen was extremely helpful and professional. He explained every detail about the work that needed to be done and gave great tips on keeping my a/c unit running more efficiently. Would highly reccomend Precision One to any of my family or friends. Great experience
Travis was very knowledgeable and made sure that we were 100% satisfied. Got the work done very quickly and in the same day. Definitely would use him again!
Dave was very knowledgeable on everything that needed to be fixed. Knew exactly what to do and how to do it. I would definitely recommend this company to friends and family. Great work!!
Dave fixed my water turn off knob under toilet. Job was done quick and gave really good recommendations on other stuff I needed. Customer service excellent!! I will use their services again for sure. Thank you Dave great rep for company.
Monday-Friday: 7:00 - 17:00