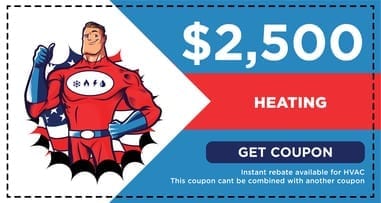 SERVICE, REPAIR AND INSTALLATION
SERVICING RIVERSIDE COUNTY
Functioning and efficient heating systems are essential to your home comfort on cold winter nights. Our heating & air conditioning specialists are masters of their trade and can provide maintenance service, expert repair, and high-quality installation for all your home heating needs. We are Trane certified and use only top-quality materials and offer the best warranties in the industry.
Our heating technicians are NATE certified and have all the training needed to create the perfect indoor temperature to keep you and your family warm and cozy all winter long.
Call Precision One Services at (760) 662-8680 to schedule heating services for your home.
Has your heater stopped working? Is your furnace making strange noises? Do you smell gas when you turn your heating on?
You can count on our team for an expert diagnosis and the best repair available. Our heating repair technicians service most types and brands of residential heating equipment, including furnaces and ductless systems.
We start by inspecting your heater to accurately determine the issues and will explain the problem and repair required. We provide upfront, flat-rate pricing for all repairs. We charge an $89 service fee, but if you go forward with the project, this fee is applied to the cost of the repair. For your convenience, we also offer 24/7 emergency heating services and financing options.
Signs Your Heater Needs Repair
Your heater is making strange noises
You smell gas when you turn the heater on
The temperature on your thermostat seems inaccurate
Your home is being heated unevenly
Heater Replacement & New Heater Installations
If your old furnace is beyond repair or you simply want to install a new higher efficiency system, we are the right choice. We customize all new heating installations to your unique needs. Our home comfort specialists will provide multiple options designed specifically for your property, energy requirements and ensure you have the highest SEER system to help you conserve energy while remaining comfortable.
When Replacement Is the Best Option
The system is more than 10 years old
Your heater no longer heats your home, or provides uneven heating
You require frequent heating repairs
Your furnace is inefficient and causes increasing utility bills
Our heating and cooling technicians have the training and experience needed to ensure that your installation is completed with the highest quality workmanship. We make sure your heater is installed according to the manufacturer's exact specifications to ensure years of reliable performance and value. We also provide upfront, flat-rate pricing for new installations, replacements, and repairs.
When your heater stops working in the middle of the night, our HVAC professionals are ready to help. We only employ trained, qualified, experienced technicians and deliver exceptional customer care.
Whether you have a gas furnace, electric furnace, heat pump, or other type of heating system, we have the expertise to provide a quality solution day and night.
We also recommend and offer extensive maintenance services to keep your furnace working at peak condition. Manufacturers require your system to be professionally serviced annually to keep your warranty intact. It is best to schedule system tune-ups prior to the cold season to make sure your heating unit will work when you need it most. During our inspection and service, we will check all safety and operational systems. If we determine a repair is needed, we will provide you with a comprehensive cost and help you to understand how to continue taking care of your heating system to make the most out of your investment.
Upfront, Flat-Rate Pricing
Our mission is to provide quality craftsmanship, respect, and unmatched integrity to every customer. When we determine the source of your heating or problem, we always explain all your options and provide upfront, flat-rate pricing, so you know exactly what the repair will cost.
For the professional heating repair and installation services in Riverside County and the surrounding areas, call our experts today at (760) 662-8680 or submit an online contact form.
A WORD From Our Happy Customers
Michael Jensen was extremely helpful and professional. He explained every detail about the work that needed to be done and gave great tips on keeping my a/c unit running more efficiently. Would highly reccomend Precision One to any of my family or friends. Great experience
Travis was very knowledgeable and made sure that we were 100% satisfied. Got the work done very quickly and in the same day. Definitely would use him again!
Dave was very knowledgeable on everything that needed to be fixed. Knew exactly what to do and how to do it. I would definitely recommend this company to friends and family. Great work!!
Dave fixed my water turn off knob under toilet. Job was done quick and gave really good recommendations on other stuff I needed. Customer service excellent!! I will use their services again for sure. Thank you Dave great rep for company.
Monday-Friday: 7:00 - 17:00